Theme 7 – Women
September 17th
The Women Campaign is devoted to fighting for women's rights around the globe and advocating for women's equal rights! WE aim to bring together grassroots movements and organizations to end violence against women and eliminating all forms of discrimination. WE do this through advocating for gender equality and economic empowerment of women.

This campaign focuses on:
⭐ Advocate for gender equality (SDG #5)
⭐ End violence against women
⭐ Advocate for economic empowerment of women
⭐ Eliminate All Forms of Discrimination Against Women
⭐ Promote women's leadership including full implementation of UNSCR 1325 to ensure women's equal representation at all decision-making levels
⭐ Carry out other programs that support Women
Pulses
11 Days of Global Unity & Global Peace Weekend September 11th – 21st
Dr Jude Currivan, cosmologist, author of The Cosmic Hologram, co-founder WholeWorld-View and member Evolutionary Leaders Circle
Day 7: Women
In reclaiming and restoring the presence and power of the divine feminine and re-consecrating the sacred marriage of the feminine and masculine, we can heal, into-great and soul model what it means to be authentically human.
The ancient concept of the sacred marriage, perceived the complementary roles of sacred feminine and sacred masculine attributes within our human psyche. It recognised the need for their healthy co-existence and mutual support on inner and outer levels of consciousness and embodiment, if society as a whole is to be healthy. 
Yet, progressively, the voice and heart-centered wisdom of the sacred feminine and her attributes of inclusion, interconnection, collaboration and valuing the primacy of love, have gone unheeded.
In dismissing the value of the sacred marriage and the vital role of the sacred feminine, our collective psyche has been wounded. Missing its innate unity, has driven a world-view of separation and dysfunctional relationships within humanity and between ourselves and Gaia.
In reclaiming and restoring the presence and power of the divine feminine and re-consecrating the sacred marriage within and between us, we can heal, into-great and soul model what it means to be authentically human.
When the attributes of the sacred masculine and sacred feminine are healthily balanced, wisdom teachings speak of the 'birth of the sacred child' within us; its evolutionary impulse surging through us enabling us to fully embody our sacred and divine nature and consciously evolve.  
Question: How do you balance the sacred marriage of your own feminine and masculine attributes – regardless of your gender, in your daily life?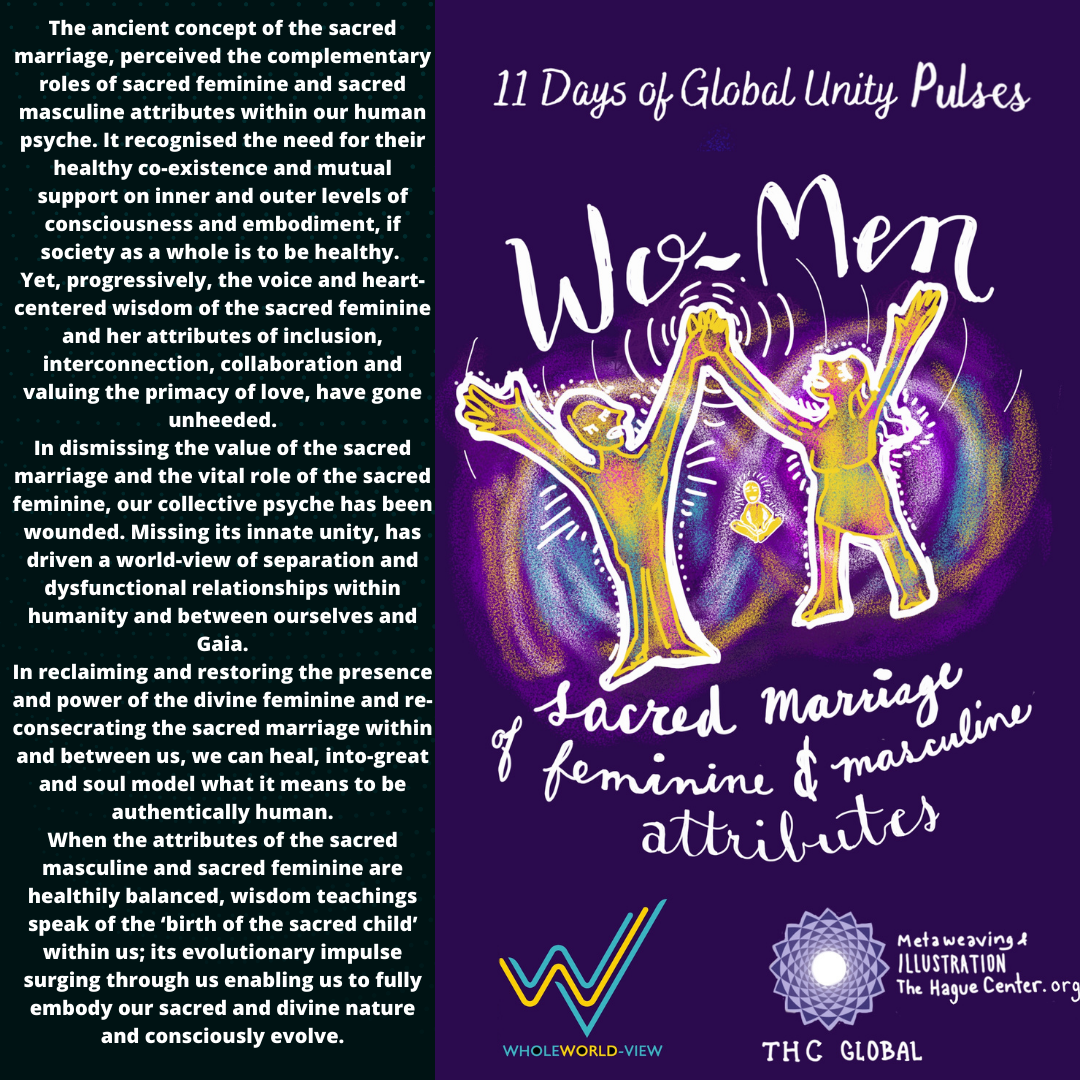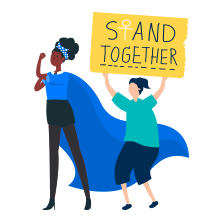 Become a Volunteer
Work together in the Women's Campaign & make an impact in your community promoting a world that works for all.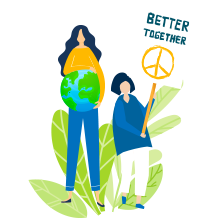 Partner with WE
Register your organization and participate in the Women's campaign during the 11 Days of Global Unity!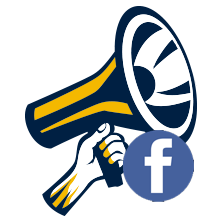 Join Our Facebook Group
Stay up-to-date on everything happening for the Women's campaign and get involved in our Facebook group!
11 Days of Global Unity Summit
Speakers: Shannon Crossbear, Deborah Moldow, Gino Pastori-Ng, and Rev. Sylvia Sumter, Rick Ulfik Host
Embracing the Divine Feminine in Whole Spectrum Leadership
We are four female global coaches and evolutionary leaders presenting an 80 minute segment into the UP Convergence on 17 August at 6 pm EDT into the Divine Feminine and Sacred Masculine Rooms. Thought we could open up for the Womens campaign audience also. We just need to ensure the zoom link used was advertised across both rooms.
As Conscious Evolutionaries and Catalysts of Change, the Evolutionistas speak into the power and relevance of embracing the qualities of the Divine Feminine for the new reality of heart intelligence shifting into place for all genders.
In these times of flux and uncertainty, it is through this wisdom that new solutions required on the planet will be birthed. The evolutionary impulse is prompting us to find greater wholeness from within ourselves to the global collaborative stage – shaping the leadership that's required for traversing the new future of our species. Embracing the divine feminine in union with the sacred masculine within allows for a new way of leading, one we call Whole Spectrum Leadership.
In this 80 minute experiential, The Evolutionistas will share their journey into wholeness through the lens of the divine feminine for all, presence her power and then invite you to participate.
What is the current balance between your own head and heart? How could further insight and practice serve you moving forward? What does true balance feel like?
We warmly invite you to come with us into an experiential journey for your own insights and greater embodiment ~ Bring an open heart, a journal and pen and be ready to be wooed by the feminine into an expanded view of yourself and your leadership!
EVOLUTIONISTAS BIO
In early 2019, Barbara Marx Hubbard called in a cohort of Global Evolutionary Leaders. Her vision as a futurist and mother of conscious evolution was for a world that worked for the good of all through igniting genius and co-creative leadership. After her passing, four of these ambassadors came together to carry forth her vision.
These co-creators are now known as the "Evolutionistas" ~ Janet Grace, Aurora Pagonis, Sheila Cash and Pleasance Hansen. This dynamic collective brings 50+ years of teaching, coaching and speaking on evolutionary consciousness to this global time of revolutionary reset. They hold the field for aligning the unearthing of the individual's genius to the needs of our time for innovative solutions.
"The NEW GENIUS: Birthing Whole Spectrum Leadership" programme begins October 2020, mapping the activation of the evolutionary impulse within you, the new human, to the actualizing of the future of our species.
Humanitree
Peaceful Valley Ecopsychology land a planting of women including Aboriginal and European
I'LL BE LOVIN' YOU – ANDRADA
WOMEN – WE THE WORLD ALBUM COMPILATION
Register for
FREE
to Participate!
11 Days of Global Unity Supporters