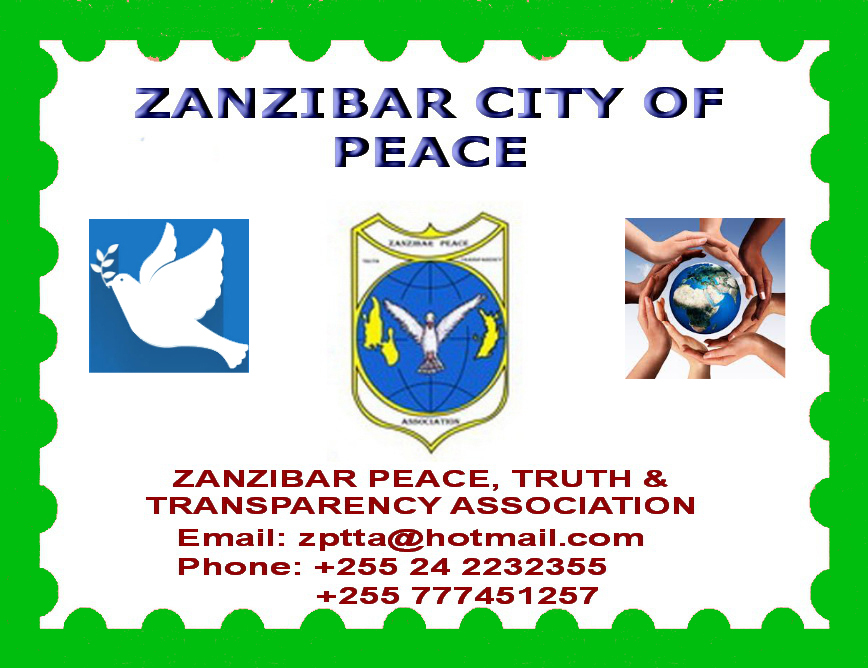 LET US UNITE IN ONE, AND WORK TOGETHER TO PROMOTING, SUSTAINING & IMPLEMENTING A TRUE CULTURE OF PEACE (POSITIVE PEACE) IN ZANZIBAR COMMUNITY AND THE WORLD (WITH ZANZIBAR CITY OF PEACE YOUTH CLUBS)
Dear all Friends in Peace
We greet you all in True Peace & Solidarity. My name is Ali Mussa Mwadini and I am the Founder of our Organization, and currently voluntarily working as Executive Secretary, Peace Activist and Founder of Zanzibar City of Peace Clubs Project. Our Organization Zanzibar Peace, Truth & Transparency Association (ZPTTA NGO), is committed to build a True Culture of Peace & peace related issues in our Community, through our two years Project Zanzibar City of Peace youth Clubs.
Zanzibar Peace, Truth & Transparency Association is a Non-government, non- profit, nonpolitical welfare and non- Military, registered in Zanzibar with its headquarters in Zanzibar Town. ZPTTA NGO is working in both two Islands Unguja and Pemba, to respond to the NEEDS of people living in the rural communities and in Town, in True positive Peace & Peace Related issues, Human Rights, Gender Issues and Nonviolence way of life in Zanzibar Community. Our Organization (ZPTTA NGO) is struggling against the calamities such as Disputes, Violence, Conflicts, Terrorism and Genocide.
We understand that true Culture of peace, (Positive Peace) is essential prerequisite in our Community and the World at large, Our Organization believe, that unless we create sustainable Peace in Zanzibar Community, it will not be possible to achieve any Development, Community Trust and cooperation, or inclusiveness necessary to solve these challenges as, violent, conflicts, depute, war and empower the institution and organization necessary to address them. We believe, without the appropriate measures and Community understanding of the factors that support peace, it is not possible to know what polices, what project and programs needed to be implemented to bring Positive Peace in the country.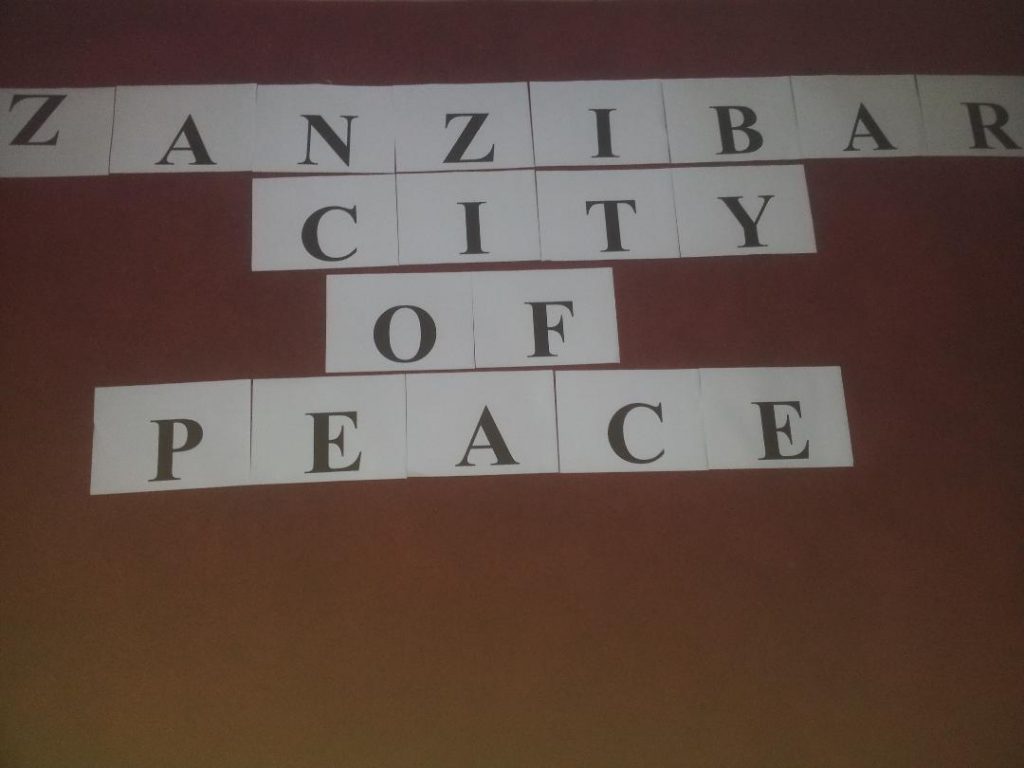 The peacebuilding and peace-making field holds powerful tools for addressing all of those challenges, yet we must work together as Organization in our country and around the key areas in the advantage. Our organization Zanzibar Peace, truth & transparency Association (ZPTTA NGO} look forward and observe that Youth from the Primary Level to the University, in school and out of school, and other groups as women, religious leaders, political leaders in the Country have no clear Vision in their life and are scattered apart in their community.
Our two years Project, Promoting, Sustaining and Implementing a True Colure of Peace in Zanzibar Community, through Zanzibar City of Peace Youth Clubs will be critical to taking the bold and Transformative steps necessary to shift the Zanzibar Community on to a more sustainable peaceful path. Zanzibar City of Peace Youth Clubs will explore and highlight the new challenges and opportunities facing the peacebuilding field. Programming to prevent Alkaid, Al-Shabaab, Bokharam, or counter violence Extremism particularly among the Youth in our Community, requires ongoing innovation and diverse range of intervention that needs adjusted based on our learning during implementation of Project through Zanzibar City of Peace Youth Clubs. More than ever before, the response to the violent extremism needs meaningful youth participation at all levels. We recognize the gravity of the TREAT VIOLENCE EXTREMISM in the world today.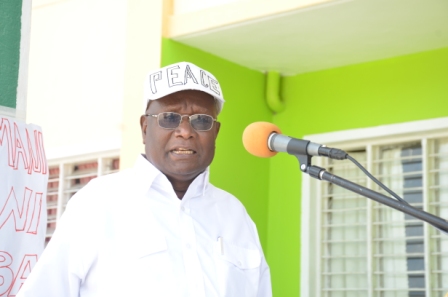 Our Organization, as many peace organizations worldwide have challenges the status quo and demands new ideas and system. To effectively address the drivers of violent extremism and promote Peace. Zanzibar City of Peace Youth Clubs as partners in the design and implementing relevant programs and policy. We Zanzibar Peace, Truth & transparency Association (ZPTTA NGO) are ready to work together to address violent Extremism in our Community as a defining challenge to our generation.
We Zanzibar Peace, Truth & Transparency (ZPTTA NGO) contemplated our work as an educator of True Culture of Peace (Positive Peace), Conflict resolution on the Peaceful Means Democracy, Interfaith & Gender equality. We are quite aware How do we do this? How do we go beyond trying just change people's minds, to reaching people's hearts? We have a sense that it lies in personal relationships, reaching across divides, in true dialogue for understanding—often starting with our own families and our neighborsWe believe that local people have the power to find their own solutions to conflict. Our mission is to help them to make this happen, through our two years Project (Promoting, Sustaining & Implementing a True Culture of Peace in Zanzibar Community in Zanzibar City of Peace Youth Clubs) Local people are the key to preventing, resolving and healing conflicts. They are the best way to break recurrent cycles of violence and make peace last. Moreover, increasingly they want to move away from depending on outside help, towards building their own futures.
We help this strategic shift, and we add value to their efforts on the ground. Firstly, we raise funds for their programs and offer management support and advice. Secondly, we build recognition for their work, to put them in touch with those in the wider world who can assist with funds and influence. Thirdly, we promote the concept of locally led peacebuilding and peacemaking to the international community, so that others will adopt our approach too and Support us.
We believe that only through joint action can we break the cycle of violence
Our direction is that of nonviolent struggle, and we call on both nations to join us to achieve peace and reconciliation in Zanzibar Community
Peace does not happen by itself; it requires commitment, perseverance and continuing efforts.
LET US UNITE FOR ZANZIBAR CITY OF PEACE & CITY OF PEACE YOUTH CLUBS TO CHANGE ZANZIBAR COMMUNITY in to peaceful life
I thank you,
Yours in peace
ALI MUSSA MWADINI
EXECUTIVE SECRETARY, PEACE ACTIVIST & FOUNDER OF
ZANZIBAR CITY OF PEACE CLUBS (ZPTTA NGO ZANZIBAR)