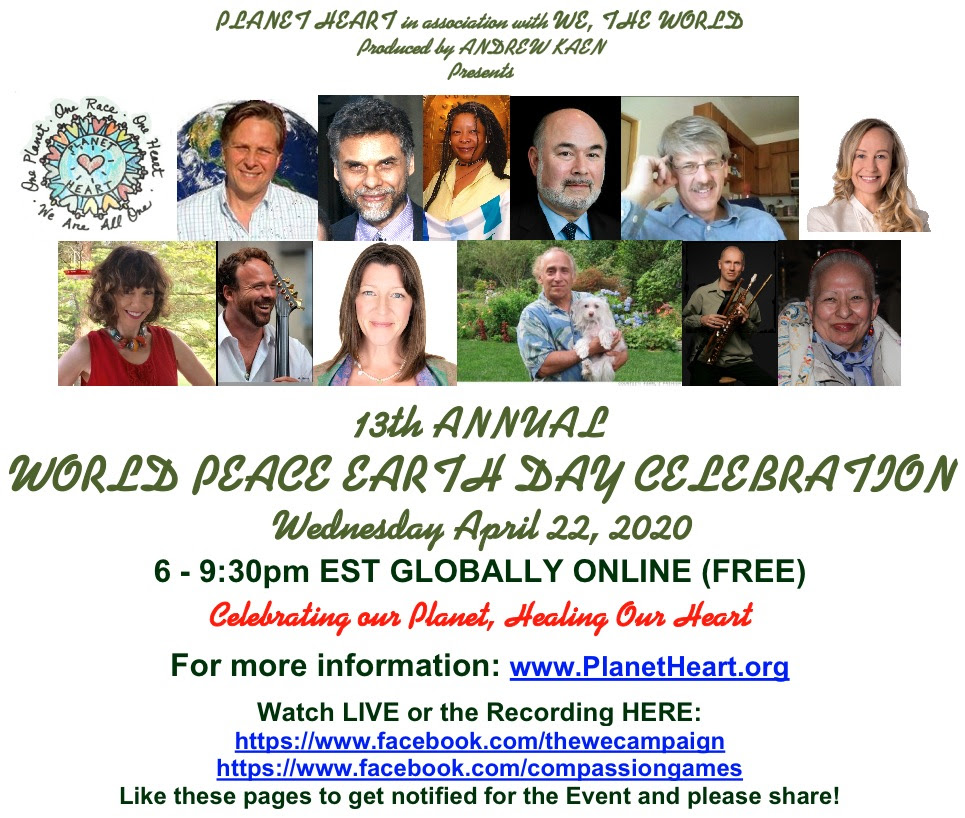 Featuring:
HOST/MC Mitchell Rabin: International speaker, Holistic Coach and Host of A Better World Radio & TV https://abetterworld.tv
Rick Ulfik: Founder of We, The World, the WE Campaign, Co-Creator of 11 Days of Global Unity, https://WE.net
Andrew Kaen: Executive Producer, Poet, Singer-Songwriter, Vibrational Healer & Ambassador for Peace, http://PlanetHeart.org
Jonathan Granoff: President of the Global Security Institute, Attorney, Author, and Advocate for the Abolition of Nuclear Weapons
Michael Fitzpatrick: World-renowned Cello Soloist
Guy R. McPherson: American scientist, professor emeritus at the University of Arizona
Elly Lessin: Long time Environmental Advocate
Jackson Madnick: Founder and President of Pearl's Premium Lawn Seed
Envita Rose: Transpersonal Coach/Healer, Soul Plan Activator, Author and Artist
Angelica Cubides: Ordained Minister, Indigenous Elder
Two Feathers: Indigenous Teacher, Co-Founder, Cherokee Language and Cultural Circle
Bill Garrett: Founder/Chairman, Harlem Climate Caucus
Evan Pritchard: Indigenous Speaker, Author, Musician
Kathryn Davis: Host of Heart of Mind Radio, Master Teacher of Qigong Form; an Energy-Vibrational Healer
Premik Russell Tubbs: Composer, Arranger, Producer and an accomplished Multi-Instrumentalist
Heidi Little: International award-winning Singer-Songwriter, Self-Love and Empowerment Educator
Lisa Roma: Singer-Songwriter, Poet, Writer/Editor, Artist, Interfaith Minister
David Young: Musician, Author, Speaker, Artist

DON'T MISS THIS SPECIAL EVENT! Celebrate 50 years of Earth Day with us!

For more information: www.PlanetHeart.org – EarthDay@WeTheWorld.Org
Message from the Producer Andrew Kaen:
Come join us for A Very Special Evening with our Conscious Community as we Gather in Unity Honoring Mother Earth. Listen to Inspirational Talks and Experience Live Music Performances, Celebrations & Prayers for World Peace, Planet Earth & All Inhabitants. All are Welcome!
We Are All One! May Peace Prevail on Earth! Please invite your friends!
We look forward to seeing you online April 22nd at 6PM Eastern Time!