Our annual year-end Party tradition is back by popular demand!
Will you join us?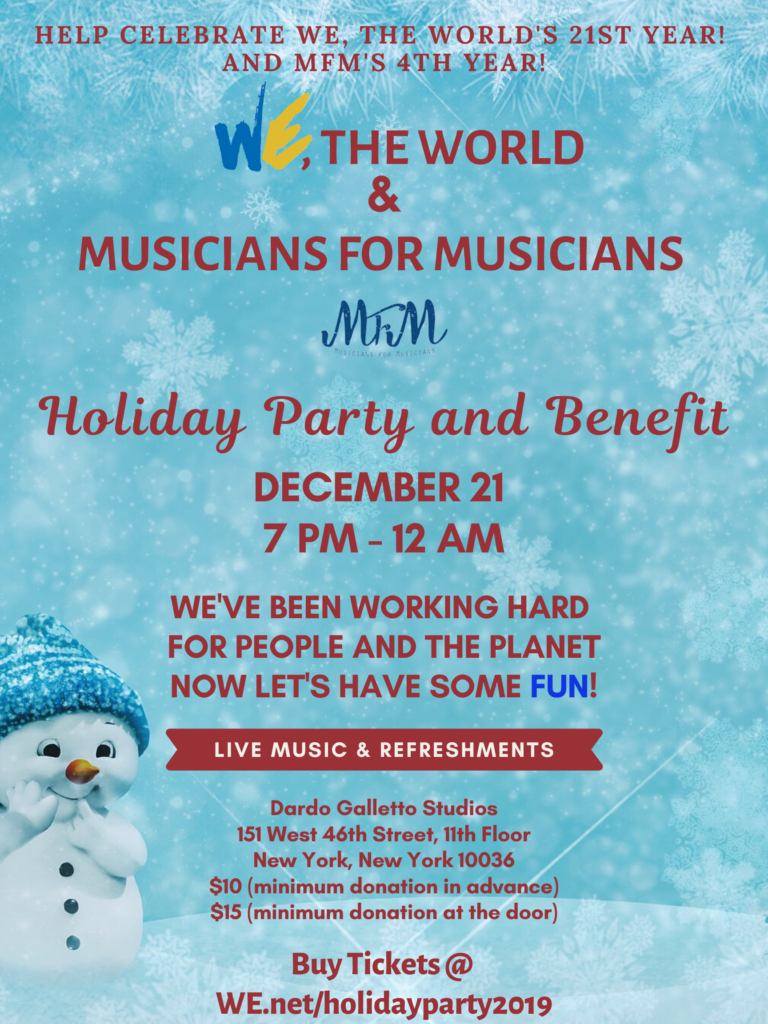 CORDIALLY INVITE YOUTO OUR END-OF-THE-YEAR
HOLIDAY PARTY!!!

SATURDAY DECEMBER 21, 2019
from 7PM till Midnight!
Dardo Galletto Studios151 West 46th Street 11th FloorIn the Heart of Times Square, Midtown Manhattan between 6th-7th Avenues!

A Benefit to Celebrate & Support
The 21st Year of We, The World!
And the 4th Year of Musicians For Musicians!
Sliding Scale of Donations (You Choose!)
$10, $15, $20, $50 or $100 in advance
$15, $20, $25, $50 or $100 at the door

Space is Limited!
Buy Advance Tickets here:
https://WE.net/holidayparty2019
Facebook Event Page:
https://www.facebook.com/events/1176155195907810
Please share with your network (and let us know if you are going!) Enjoy wonderful food, drink, singing, dancing, fabulous musicians,
performers, activists, artivists, people working for a better world, and
f u n f o l k s l i k e y o u !
Please bring food or drink to share and instruments to play!
(NOTE: If you bring food to share for at least 4-6 people, we may discount your ticket cost. Please Reply to this message with what you want to bring and then we will confirm.)

And we'll livestream all the amazing performances too!
https://www.facebook.com/TheWeCampaign
Please subscribe to this page so you can be notified when broadcasts are starting.
Featuring some of the finest musicians and singers in New York City including:

Roger Blanc – Guitar
Ken Hatfield – Guitar
Meredith Manna – Vocals
Joel Bluestein – Guitar
Rick Ulfik – Piano
Joe Berger – Guitar
Baba Don Eaton – Percussion
Lyndol Descant – Vocals and Piano
Sohrab Saadat Ladjevardi – Sax
Dawoud Kringle – Dilruba
If you can't make the party, will you support the work of We, The World and Musicians For Musicianswith a tax deductible contribution? Here's how:

Make a secure Online Donation for We, The World and the WE Campaign here: https://WE.net/give
Your support will help WE to continue and expand our global networks of collaboration and action for a peaceful, just and sustainabile world.Send checks payable to We, The World Here:
We, The World
P.O. Box 750651
Forest Hills, NY 11375

Make a secure Online Donation for Musicians For Musicians here:http://www.MusiciansForMusicians.org/your-support
Your support will help MFM to advocate for the benefit of all musicians, financially and other ways.
Thank you and see you Dec. 21st!